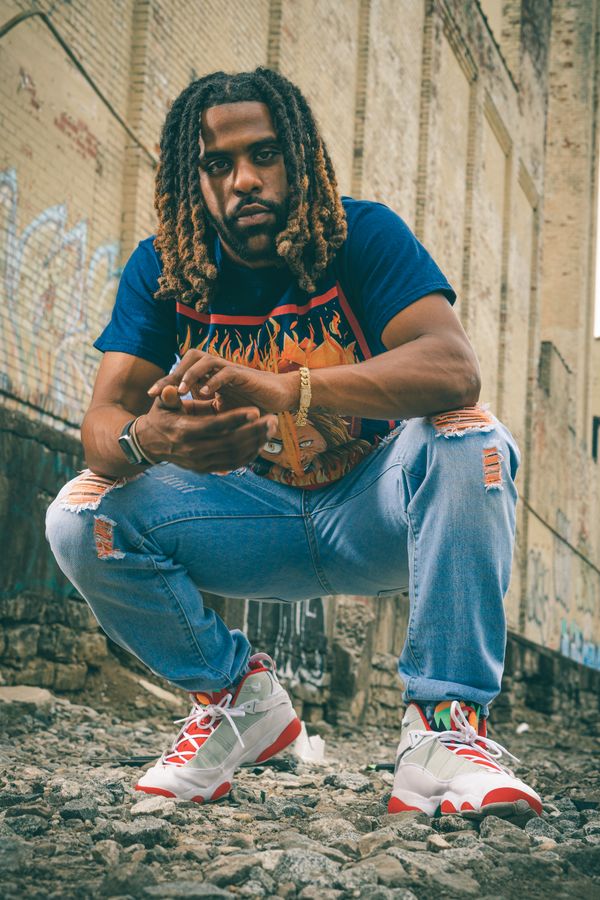 By El Suggs  
I had the pleasure of chopping it up with  BRXTN, lets see how he handled my 21 Questions! 
1. What made you take the creative approach of using a variation of your name ( Braxton) as your artist name (BRXTN)? 
I started  taking my music seriously back in like 2013 when ASAP Rocky and his crew were starting to really take control of the culture. I remember them doing all kinds of fly shit with the way they stylized their names, turning the "A's" to "V's", removing vowels and all that type shit so when I chose my artist name I didn't wanna try and form an alter ego or anything like that. I just dropped the vowels outta my name to add a lil flare, but I had to stay Braxton -- so now we have BRXTN, but if you see me around just call me Braxton. It's not Brixton either, so let's kill that confusion (respectfully).  
2. Where are you originally from? 
 A small town in Kentucky called Ashland. Population is barely 20,000 people. It's a great place to grow up, be a kid, get into trouble but post-high school it seems like opportunities run dry. So alotta people either use their ambition and resources to get out and pursue life elsewhere, or vice versa, folks get too comfortable and never leave it all. I couldn't be that guy, staying comfortable was never really my thing but I love the people back at home who still hold it down.  
3. How does your hometown , Louisville and Memphis differ from each other musically? 
Memphis and Louisville are a lot alike honestly. I mean, if iI had to say, Memphis is just a little bit grittier in the sense of the street culture that exists down here, especially from a musical perspective. Louisville has names like Bryson Tiller and Jack Harlow representing the city and helping claim its space in the culture of Hip-Hop and R&B. Memphis has the likes of Pooh Sheisty, Moneybag, Dolph, Gotti, etc. If you listen to music then you can already identify the difference in both sides. Louisville is more of some wavy, fun, fly shit with a thread of soul intertwined into everything we do. Memphis's vibe is angled more for the streets and those who are involved with it. Now don't get me wrong, there's plenty of diversity in Memphis too, but quality street music is definitely the sound that's dominating the scene.  
4 . Any plans to relocate to Atlanta , LA , or New York at some point? 
Plans to relocate? Right now I'm just getting my feet on the ground in Memphis so I don't know about fully relocating any time soon. I'm enjoying being closer to family, and the energy Memphis offers as a city. But don't get it twisted, we are prepared to be on the road heavily. Between promo pushes, shows, pop-up shops, etc...you gon' see us in a city near you regardless. I will say though, I will be living in LA by the end of 2022. That's the vibes these days.  
5. How did you get your start in music?  
I had a homie back in middle school who was already recording and doing his thing with the music. It all started as a joke really, we would link up on weekends and record little freestyles and shit. Soon enough, it turned into a passion, then I started investing in my own equipment, studio time, etc. The rest is history at this point.  
6.Who are your TOP 3 musical acts that have influenced your own sound? 
Drake, Tory Lanez, J.Cole.  
7. Who are 2 artist from KY or TN that you havent worked with yet but you think a collab feat would be FIRE? 
I wanna work with Vory. His voice and vibes he brings to tracks are unique, and original. He's really got his own wave and I've been a fan for quite some time, so that would be dope. I also wanna work with EST Gee. I think he and I could craft something dope for the female audience. He's got plenty of bangers, but I think women would appreciate something catered to them specifically, some wavy shit. Holla at me Gee! From TN though, I like Dolph, Gotti, Yo, Pooh, anything with any of them would go crazy.  
8. How do you feel about the resurgence of female rappers in hip-hop right now?  
I love what the women are doing right now. I feel like there's a lotta diversity in the game when it comes to the female artists today too. There's someone for everybody and even the public seems to be highlighting and giving the ladies their roses. so it's dope to see. Salute to all Queens out here holding it down. Some of them out rapping the niggas no cap.  
9. Favorite female rapper? 
Young MA 
10. Favorite male rapper? 
 Me , lol  
11. Who is an artist of any genre people wouldn't think you listened to , that you enjoy? 
I listen to alotta Electronic music, EDM type shit. I don't know, I like to workout and the production and arrangement of alotta EDM songs hit hard when I'm in grind mode, or running. I feel like people think I listen to Rap all day, but nah. My Mom and Pops always made sure I had a diverse ear for music so I'm drawn to a lotta different vibes and sound aesthetics in general.  
12. Your new single "Fake Love is poppin off. What made you want to tackle the topic in song form?  
I wanted to talk about Fake Love because I know we live in a generation driven by social media, and clout, and who "looks" poppin' or who's being talked about non-stop. That's what gauges a person's worth these days, or so it seems. But either way, I wanted to use this single to encourage folks to love themselves more than the world ever could. These followers are fickle sometimes. They'll celebrate you one day, and hate your guts the next and you don't  even know why. So you gotta love yourself regardless, and focus your energy on what makes you happy. Life is too short to do otherwise.  
13. Where you afraid you would ruffle some feathers with the release of the song? 
Ruffle Feathers? Afraid? Nah on both. If the confidence I brought on a record that's speaking nothing but facts ruffles anyone's feathers then that sounds like they have self-evaluating to do. Good music is supposed to make you feel something, if it didn't, I haven't done my job.  
14. Who produced Fake Love? 
Sam Beast AKA The IIIrd  
15.There is an accompanying Fake Love documentary . Whos idea was it to release that as well and how did it come about? 
The documentary was my idea. I felt like, well I knew, that it had been awhile since my supporters had experienced a full active BRXTN in terms of releases, content, shows, etc. I've been through some shit. Business-wise, life-wise, just in general. I ain't the same nigga I was when I started doing this shit, nor do I feel I should be. People gotta evolve, and grow into what they're destined to be. So I took some time away to take care of myself before anything else. This documentary was a way for me to catch up with the core audience with what I've accomplished already, but also to serve as a proper introduction to any newcomers to my wave.  
16. Are you able to make a clear distinction between Braxton the man and BRXTN the artist or is that something that only friends and family notice? 
Yeah, clearly. I'm not one of those artists that lives a double-life, or tries to convince you I'm doing anything other than living my truth and giving y'all a glimpse into my reality. I'm Braxton 24/7, I just go by BRXTN when I'm making music. No grey area.  
17. Favorite NBA team right now? 
I'm rocking with the Nets right now. James Harden has been my ace, and then Kyrie and KD are deadly too. Gotta give it to Brooklyn.  
18. Whos your celebrity crush and why? 
Ari Lennox. She's unapologetically black. Beautiful. Talented, Intelligent. Bout her business Signed to Dreamville. Easy call! That's bae! ( SHOOTERS SHOOT , I'm shooting mine) ( hope she's reading this ) -BRXTN 
19. One year from now BRXTN will be? 
One year from now I wanna be able to sell out shows in any city in America. One year from now I want to be headlining festivals and touring the world. One year from now I want to buy my first home and know I did it off of music. Pure passion and hard work. That's not where I want to be, that's where I will be.  
20. What's the best part about this whole thing? 
Being able to reach the fans , hearing/seeing them singing the words to my songs . The feeling knowing they hear my music and can relate . I love it ! 
21. Speaking directly to your fans . What's one thing you really want them to hear from you? 
I love them and appreciate them. Without them, I'm just another dude making noise in line. They give me an identity and reason to keep going. That's something I could never take for granted. 
Listen to "Fake Love" by BRXTN here