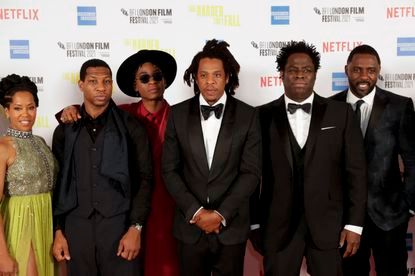 By: King Acklin
The new Jay-Z produced All Black Western, The Harder They Fall, looks to add some color back to history's whitewashing of that time period. Historical records estimate that about 1 in every 4 cowboys were black. When being interviewed by Entertainment Tonight's Kevin Frazier, Hov states, "(Growing up), one of the only things on public television was Westerns, every week, and we weren't represented in those at all. In fact, our characters were taken from us. 'The Lone Ranger' was based on one of the characters from this film." It is widely believed that the Lone Ranger character was inspired by Bass Reeves, who was a lawman in real life. Reeves is played by Delroy Lindo in The Harder They Fall. 
In a genre of movies and television shows that have been predominantly white, Jay-Z along with director, Jeymes Samuels, are working to give people a reality check. During a recent Q&A on the film, Samuels said, "Black people in period pieces — we're not subservient. 'The Harder They Fall' is not an alternative viewpoint of the West. It's actually a realistic viewpoint of the West. What Hollywood was feeding us for all of those years wasn't an alternative viewpoint of the West — it was just a lie." 
The Harder They Fall stars: Idris Elba, Jonathan Majors, Regina King and LaKeith Stanfield. The movie will have a limited release on October 22 before being released on Netflix November 3rd.