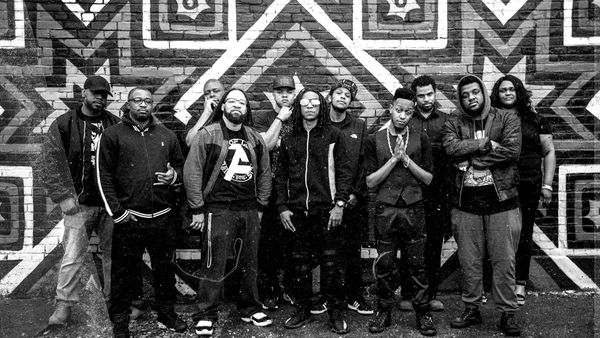 By Amoré King
A lot of dope music is coming out of Louisville Kentucky right now. From Commercial Rap, Trap, R&B and more. Rapper Rmllw2llz (pronounced Romell with two L's) can take the credit for a decent portion of that. Although he has a sizable catalogue of music of his own Rmllw2llz also doubles of the C.E.O. of  Kr8vN8vs Records. To that extent not only Rmll but his entire roster of eclectic artist are releasing quality music in droves.
Kr8vN8vs Records is unquestionably a label to pay attention to. Accumulating powerful talent like infinity stones, it would be no surprise if the label had a meteoric rise to the top. Founded in 2017, Kr8vN8vs Records covers a wide array of genres. Hip Hop, R&B, Pop, and even Alt. Rock. The label features talented artists like Furious Floyd (formerly Pronoun) Fiji Waters, and plenty more. Furious Floyd is known for his lyrical prowess as well as his political musings. Fiji Waters is an R&B powerhouse vocalist. Rmllw2llz is musically the professor X of the team. Leading with a quiet confidence and proven track record. Hovering over the tracks using mental manipulation to provide whatever is needed for any particular track to win. That's currently not even half of the label talent.
Rmllw2llz is building his label empire one artist and one project at a time. Currently what Kr8vN8vs Records has on tap for the fans is a compilation project. Entitled "The N8vs Vol. 1", the very to the point compilation title sounds a lot like we'll be getting some high quality songs from the entire roster. The 1st single from the project is one that comes with some urgency. "Good Dope features yet another "N8vs" roster member, TrapKingKai as well as Rmllw2llz himself. Produced by D.R.U.G.S. Beats, the jittery high energy song sounds like a die hard rap fans twisted fantasy. Think prime Inspectah Deck (TrapKing) sparring with prime Jiggaman (Rmll) over production by Q-Tip. "Good Dope" should put everyone on notice that The N8vs are here, while building the anticipation for the compilation's release on October 1st 2021. Rmllw2llz is simultaneously putting everyone on notice as well. The label, Kr8vN8vs Records is also here and has plans of being a staple on the indie music scene nationwide. It's time to get familiar.
Follow Rmllw2llz on Spotify and follow Kr8vN8vs Records on Instagram here.