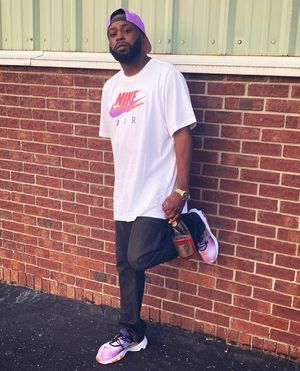 By: King Acklin
Hip-Hop is a gladiator sport. For American Rapper, Amoré King he wouldn't have it any other way. "Steel sharpens steel. It's very difficult to elevate to the next level when you're playing down to the level of competition. Give me the best of the best and watch me rise to the top. That's what the culture is all about." He states. No stranger to battling in his early years and rap cyphers regularly Amoré welcomes the most talented artists. It's an admirable trait in this era of sensitive rappers.
It's no wonder then that this competitive spirit bleeds over into other facets of Amoré King's life. Amoré is setting up to release a compilation comprised of a the top talent from Louisville and the surrounding areas. In addition, this compilation will accompany a film documentary spotlighting the highs and lows of the artists putting the music together. Featuring one on one interviews of the artists, and highlighting the hoods of Louisville, the expectation are that this will be big. Titled "City Up: Shake Up the World Louisville", The aim will be various unassociated music acts collaborating for the first time on each song. The results of all that steel sharpening should be some incredible music the masses will love. Amoré will be partnering with documentary specialist William Baldon of Dream Love Productions and indie film specialist Christopher Gastrost of Cliff Productions, who will be directing the documentary film. Together the three of them are swinging for the fences. "We want to reach a world wide audience with this. And we will" Amoré asserts matter of factly.
Along with the "City Up" project Amoré runs The Immaculate Ones A/V. The audio/visual music label focuses on releasing top shelf music quality. When asked what makes his label different from the rest Amoré King stated matter of factly. "What makes my label different is that we don't put any boundaries on where we can go with our music. We let the music speak. The music is genuine. There's no cap in our rap, no lies, and no fairytales. We give it to you real and we're very passionate about this craft." If juggling multiple projects at once is a tough task Amoré King doesn't let on. He's intensely set on running the world "What's next for my label is, god-willing, we take over the game. I don't think that's unrealistic. I don't think there are any unrealistic goals for my label because the artists are all incredibly talented. That's why I agreed to bring them on when they sought me out." he says. "City Up" will shake up the world. The Immaculate Ones will take over the world. That's a world I am ready to live in." If Amoré keeps going that world just might be a reality.