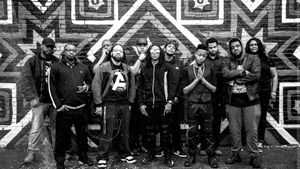 Artist: The N8vs 
Album: The N8vs, Vol. 1 
Articulation: ThugelinaJolie 
A compilation from The Record label called Kr8vn8vs Records (Pronounced Creative Natives) Founded in 2016 by Hip-Hop Artist Rmllw2llz. 
The label signees are: Rob Lee, Fiji Waters, Trapkingkai, Church Friends, Dom Betts, Methodical Wun, W.I.P. (Work In Progress), and DJ DS. This is  a group of Elite spitters with one male and one woman R & B singers. In addition to A Alternative Rock Band on the Roster. 
Let's get into the project, Opening up with a cypher type track entitled 'The N8vs' gave a great introduction of the label. It displayed what each artist has to bring to The Kr8vn8vs, with strong closing bars from Dom B. The flow of the project stood out, providing vibes for the listeners. Holds your attention, rather you're looking for some dope wordplay or some R & B Smooth. The N8vs compilation has it! 
What needed some attention on this project was the R & B Songs. The Hooks could've been stronger on 'Dodging Rain Drops' sounded kinda dated, The verses from Fiji Waters and Thurgood Bartholomew were dope. On 'What R We' song Rob Lee sounds kinda distorted and low. Not sure if that's what the producer was going for but it did stick out. Also the hook could've been stronger. Being this mostly a Hip-Hop project, the hooks and Cadence were good just needs some punching up. 
All together the project gets a 8/10 from the 'Dope tho' Crew. It has replay value and it give the casual listener or the diehard hip-hop heads all types of vibes, 10 track comp Makes sure to check to check The N8vs! Vol. 1 Now Streaming on all DSP's (Digital Streaming Platform) 
Dope Tho Rating: 8 
Key Dope: Good Dope, Funkshun, 38 Missed Call, Backwash, Coming Home, Royale with Cheese. 
Dope Tho Rating System: 1-3 Nope tho 
4-5 Needs Work 
6-7 Solid 
8-9 Heat 
10- Dope Tho Classic