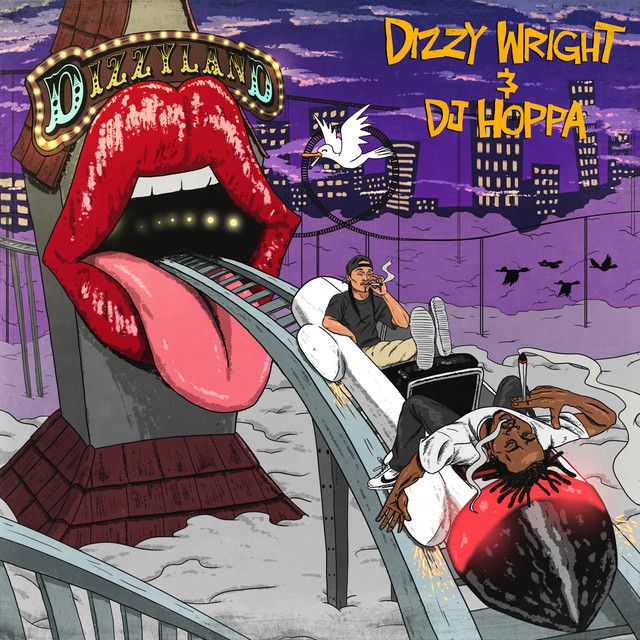 Artist:  Dizzy Wright & DJ Hoppa
Album:  Dizzyland
Articulation:  DJ Suspence
Dizzy Wright and DJ Hoppa teamed up to release Dizzyland in April of this year, and after giving this one a listen(s), it's kinda hard to really say how I fell about it.  The project starts off with almost a classic west coast sound with "Manifest" and "24 Hours", assisted by fellow west coast coroner Xzibit.  Then it kinda throws a curveball at you. 
I won't say that "Promoter" is a bad record, but it definitely sounds a little out of place as this is the only reggae record on the entire project.  So I'm not sure why or how this one made the final cut alongside the other records that did. 
For a decent amount of the project, the sound switched to almost a New York "boom bap" sound.  Which makes it sound just a tad outdated.  I would have liked to have seen a little bit more of the west coast sound throughout the project. 
On the next to last record, "I Can't Quit", we got a random verse from the "Power Series" Omari Hardwick.  I'm not sure if they're all really close friends and just wanted him to be a part of the project, but I think that we can all appreciate his main focus is currently with his acting career, no shade, lol.  But this is still one of the stronger records on the project. 
All in all I don't think this is a bad record.  Dizzy definitely got his bars off throughout the entire project, and it does have is brights spots as well.  So at the end of the day, my rating for this album is a 7 on the Dope Tho rating scale. 
Key Dope: 
"On The Move" (feat. Demrick & Reezy)
"Manifest" (feat. Goddess of the West)
 "I Can't Quit" (feat. Omari Hardwick) 
Dope Tho Rating System: 
1-3 Nope Tho 
4-5 Needs Work 
6-7 Solid 
8-9 Heat 
10 Dope Tho Classic