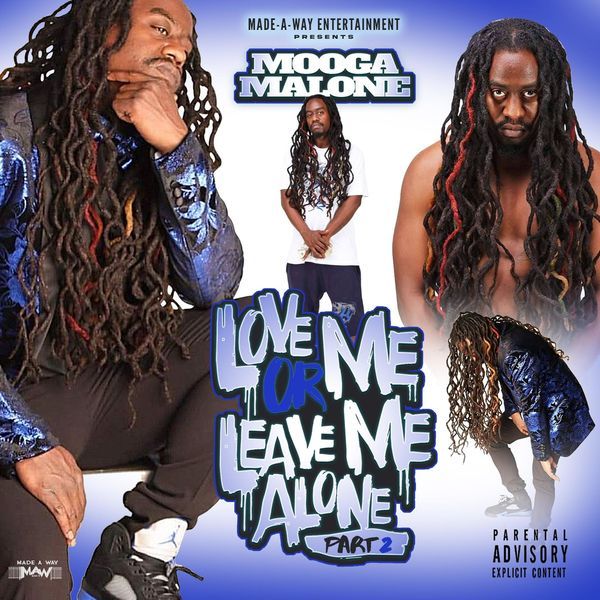 Artist: Mooga Malone   
Album: Love Me or Leave Me Alone Pt. 2 
Articulation: King Acklin 
Louisville's own Mooga Malone released the follow up to his 2021 project, Love Me or Leave Me Alone Pt. 1, exactly one year later. Love Me or Leave Me Alone Pt. 2 just dropped on April 21st. The 8-track project gets off to a bit of a slow start with the melodic up-tempo Magic, but picks right up with lead single Rest and Risk Taker. 
The album seems to pick up a lot of steam with standout track Anti Social On Da Social. Listeners will find that the 2nd half of the project finds the West End's own Mooga in his zone. The artist pulls us in with a good delivery over infectious production on most tracks. Songs like Better Than Daddy and another standout joint, Family Bidness, gives us more of a personal feel for the rapper and provide a nice way to close the project. "Family ni%%a, I aint even gonna lie, I love all you crazy motherf%$#@s". Everyone should be able to relate to these words from Mooga on Family Bidness, I know I can. 
Mooga warmed the streets up with Rest (Watch the video here) and now is trying to blaze them on out with Love Me or Leave Me Alone Pt. 2. Overall, this is a good project. I would love to hear Mooga Malone with different production or at least more variety of sounds on the next one. I'm not sure who to compare him with, but maybe that's a good thing? Hustling music here. 
Bottom line and question of the day; Is It Dope Tho? The answer is Yes. The project is an 8 on the Dope Tho Scale. Listen now and thank me later... #DopeTho #YouWelcome 
Dope Tho Rating: 8   
Key Dope:  
Rest 
Risk Taker 
Anti Social On Da Social 
Family Bidness 
Dope Tho Rating System:  
1-3 Nope Tho  
4-5 Needs Work 
6-7 Solid  
8-9 Heat  
10 Dope Tho Classic