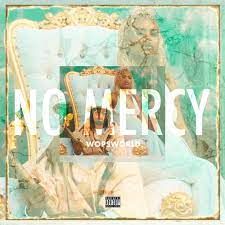 Artist: WopsWorld   
Album: No Mercy 
Articulation: King Acklin 
Louisville's own WopsWorld released No Mercy March 21st of this year. With 19 tracks and over an hour of listening time, No Mercy seemed a bit daunting. Wop gets right to business on the No Mercy Intro by letting listeners know he's not here to play games and he's going all gas no brakes from here on out. Flame is the lead track from the project and its trance like beat will pull you in and have you chanting the simple song title chorus, "Flame, Flame, Flame, Flame" throughout. The energy is high on the next few joints but don't bring the same appeal as the first two tracks even though they can keep listeners bopping to the contagious Wop vibes here. 
No Mercy picks back up with Pop Off, which is a dope produced tracked that shows off how Wop can switch the flow up, which is much welcomed. The next few joints help No Mercy really get going as the album gets better towards its back-end half. Stand out tracks Head Up/Knocking', Bestfriend and Groundhog's Day showcase Wop's production skills and his ability to delivery top notch bars on a variety of topics. Shoutout to the dope H-Town Knockin Boots sample on Head Up. For you youngins, H-Town sampled Zapp & Roger's Be Alright for their joint. 
Back to Groundhog's Day, this is one of the better, more personal tracks on the project. "I feel so close but feel so far away" is the opening line off this one. Lines like that and "I know a change gone come" make this one relatable in a lot of ways. On the flip side, tracks like Yourself, Sleepin' and Wolf, feel more like album fillers and just didn't hit home the way they should have.   
Overall, this album has great production from Wop himself and others. It also let's Wop showcase his bars and he's getting a lot off his chest here and letting people know he's not to be played with. This album feels very braggadocios and we all know WopsWorld is one of the more talented artists in the game and it shows on No Mercy. Although a few songs seem a bit repetitive, the album is solid and would have been HEAT if it was scaled back by 4 or 5 tracks. 
Bottom line and question of the day; Is It Dope Tho? The answer is Yes. The project is a 7 on the Dope Tho Scale. Listen now and thank me later... #DopeTho #YouWelcome 
Dope Tho Rating: 7 
Key Dope:  
Flame 
Pop Off 
Back on Road 
Head Up/Knocking' 
Bestfriend 
Groundhog's Day 
Champ 
Dope Tho Rating System:  
1-3 Nope Tho  
4-5 Needs Work 
6-7 Solid  
8-9 Heat  
10 Dope Tho Classic