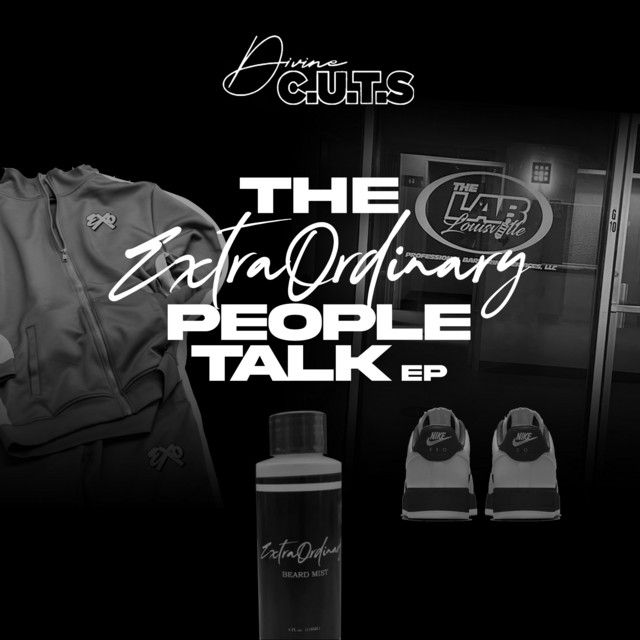 Artist:  Divine C.U.T.S.
Album:  The ExtraOrdinary People Talk EP
Articulation:  DJ Suspence
Divine C.U.T.S. released his latest project, "The ExtraOrdinary People Talk EP" this past September.  As the title suggests, it's a 5-pack EP that clocks in a just a little over 17 minutes, so it is a quick listen. 
Right away on the opening track, you can easily pick up that New York/East Coast Hip Hop has played a pretty big influence on the Kentucky emcee's music.  "ExtraOrdinary" opens up with classic east coast production that immediately give the nostalgic feel of 90's hip hop. 
The next track, "People Talk", contains a Ye sample that I think does have potential to be a strong record, but I'm not so sure if the drums really meshed well with the sample.  I just seemed a little "noisy" if that makes sense.  Maybe if there wasn't so much going with the drums, the sampled may have landed a little bit better.  Although, the premise of the track was a great idea as Divine is a seasoned Barber, and the sample used is Ye stating, "people talk so much sh*t about me at barbershops, they forget to get their hair cut."  So a dope premise, just didn't land it the way that it could have. 
Also, across the entirety of the project, it has a theme of Divine singing the hooks himself, with added autotune.  Not to say that it sounds terrible, but they songs may have fared better if there was an actual singer on the hooks without the need for added autotune.  A good example of this is on the track, "Keep It Groovin", to which another Louisville native, Smoke E. Diggrela is featured on.  The Grammy award winning, former member of R&B group Playa, and current Dru Hill member lends his vocals to this record and just comes together a little bit better than other records with Divine taking care of the hook himself. 
Being honest, overall the project kind of has an outdated feel, and a couple attempts at flipping some classic records that I just don't think landed all way.  All in all it's not a bad project, but I would say that it does need some work.  My Dope Tho rating for this project is a 5 on the Dope Tho rating scale. 
Dope Tho Rating:  5 
Key Dope: 
"ExtraOrdinary" 
"Keep It Groovin" 
Dope Tho Rating System: 
1-3 Nope Tho 
4-5 Needs Work 
6-7 Solid 
8-9 Heat 
10 Dope Tho Classic