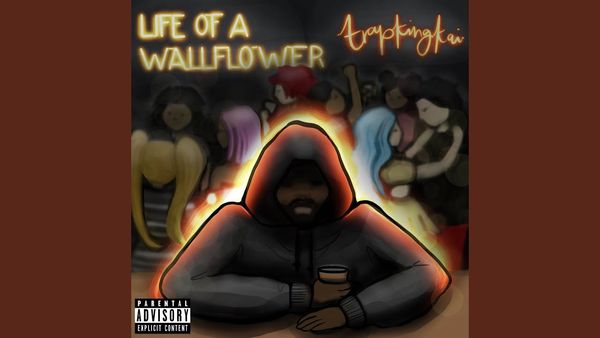 Artist: TrapKingKai  
Album: Life of A Wallflower   
Articulation: Thugelina Jolie   
Life of A Wallflower is a 5 track EP, Got to the point type of project. Definitely translates to the listeners, featuring Dillon McCluskey and Joey Phantom. Also why Production by Rob Goodknight.  
Louisville Rapper TrapKingKai a Lo-fi/ Experimental Hip-Hop Artist. New EP Life of A Wallflower combines a laidback flow with Honest Word Play along with Lyricism gives a Nostalgic 90s Hip-Hop flow.   
I enjoyed this project, It gave us Griselda/Benny The Butcher vibes mix with Dream chasers. Solid production, different flows and cadences. Which made it more enjoyable. The title definitely fits the name of the EP. That definitely gave good insights into the sound of a Wallflower. The Life of A Wallflower EP could've benefitted from being a little bit longer. I full length album version seems like it really would have shined brightly. Perhaps that is something to look forward to in the future.  
This Project is 8/10 from The Dope Tho crew. Make sure to check out Life of A Wallflower, out now on all platforms.  
Dope Tho Rate: 8 
Key Dope: Parking Lot 
Swerve 
Buttered Freestyle (Beat Change was CRAZY!) 
Dope Tho Rating system:  
1-3 Nope Tho 
4-5 Needs Work 
6-7 Solid 
8-9 Heat 
10 Dope Tho Classic