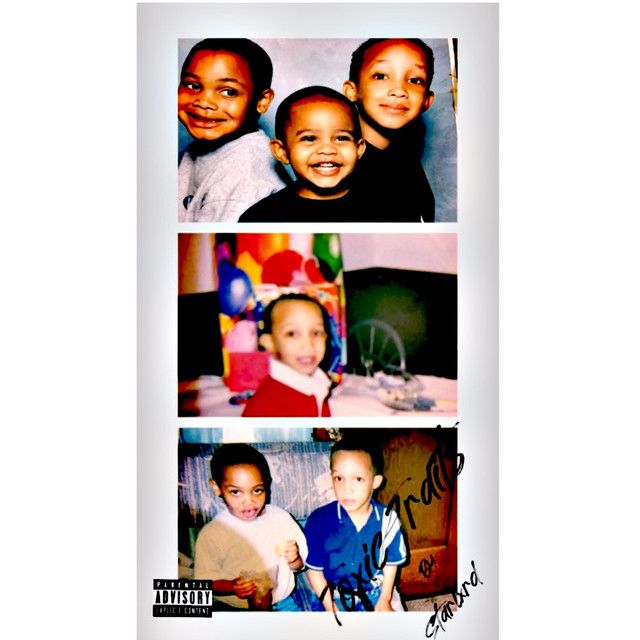 Artist:  Starlxrd
Album:  Toxic Traits
Articulation:  DJ Suspence
Producer Starlxrd recently dropped his latest project "Toxic Traits" this past December, and is assisted by rappers Jiggah and Mighty to put lyrics to the collection of records he's put together.  The overall project has the feel of a dedication to previous failed relationships while simultaneously also a dedication to the current relationship. 
This is evident as soon as the project begins with the opening track, "KIARAS SONG".  Although this isn't a bad record, I personally wouldn't have decided to begin the project with this record as it's basically a mirrored image of Drakes "Papi's Home", due to using the same Montell Jordan sample, "Daddy's Home".  The record begins with the Montell Jordan sample until the beat drops in, identical to the Drake record.  So I would have rather had this track either in the middle of the project, or more towards the end. 
Being that Starlxrd is a producer, he tasked rappers Jiggah and Mighty with providing the vocals for the project.  While the rappers aren't the strongest lyrically, the flow fits perfectly with the vibes of the production. Though, I'm curious as to how it would sound if Jiggah's verses were laid without the use of the autotune.  Mighty's voice/tone sounds a little more natural with the autotune, and Jiggah's just wasn't as strong. 
Also throughout the project, at the end of some of the records are small "Toxic" conversations or notable audio from popular social media influencers, which I think is a nice touch to the project to bring home the theme of toxicity. 
As to be expected, with this being a project put together by the producer, the production is solid across the board for the entire project, however there wasn't really a record that stood out against any of the others.  The overall feel and sound of the album is solid from start to finish, there just isn't anything about it that makes it really memorable. 
So the question is, is the project good toxic or bad toxic? 
The project is definitely solid from front to back, so I give this a 6 on the Dope Tho rating scale. 
Dope Tho Rating: 6 
Key Dope: 
"TEQUILA" 
"THE CRUISE" 
"MOTION" 
Dope Tho Rating System: 
1-3 Nope Tho 
4-5 Needs Work 
6-7 Solid 
8-9 Heat 
10 Dope Tho Classic