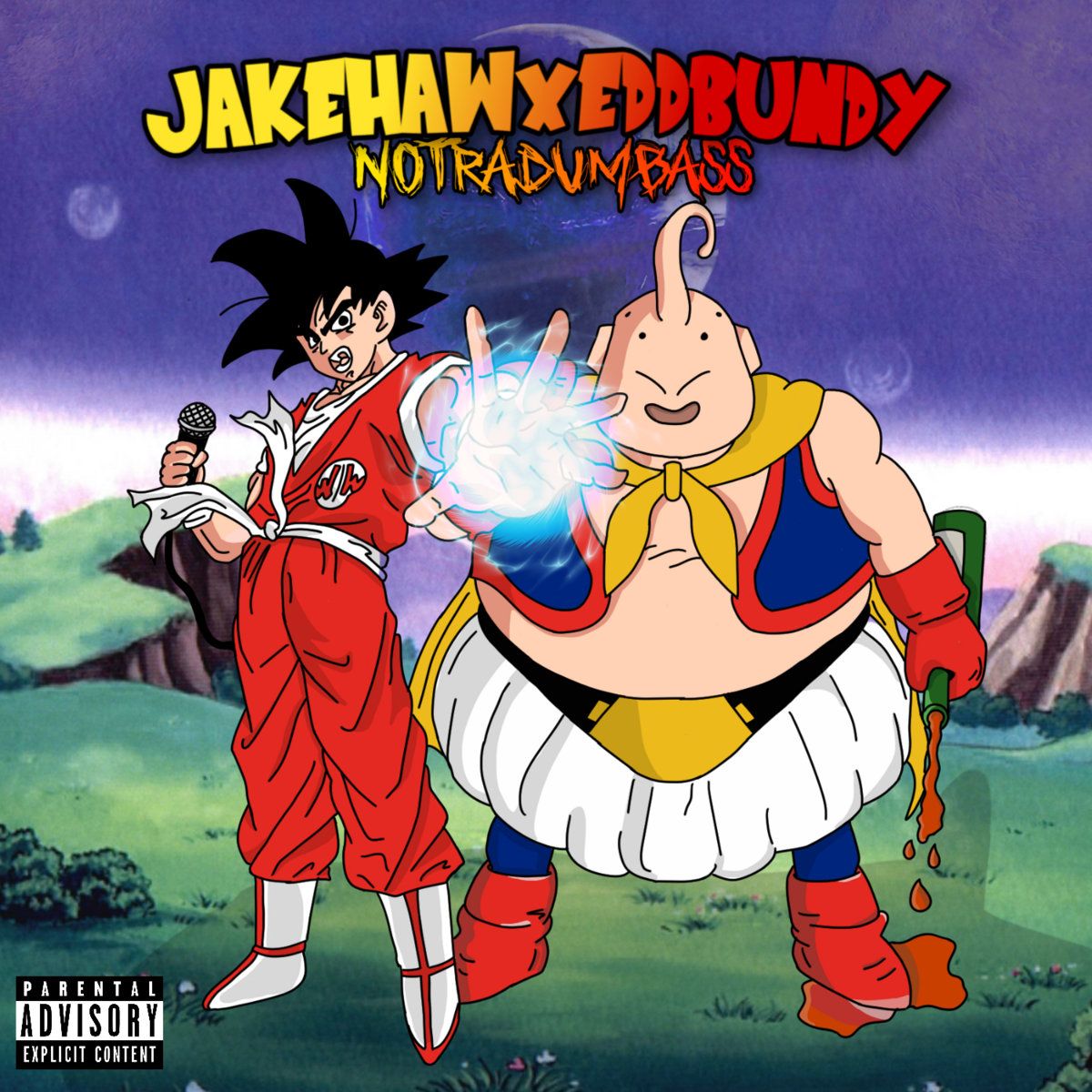 Artist: Jake Haw x Edd Bundy   
Album: Notradumbass  
Articulation: King Acklin 
Notradumbass brings the people a mashup of International Hip-Hop cultures. The collab project features Jake Haw from Guelph, Ontario (Canada) and Edd Bundy from London (United Kingdom). The duo dropped this 8-track project earlier this month and it features a dope Dragon Ball inspired cover. 
I hit play and admit, just off title and cover alone, I was skeptical. Even as the Keep It Cool Intro played with that very hip-hop head nodding base line; I didn't know what to think. The next track, Hyperbolic Rhyme Chamber, is another nod to the Dragon Ball anime series. At track 2 this one seems out of place sequencing wise, but it's still a surprisingly effective old school posse cut with fast hitting rhymes. I could see a video for this one, albeit expensive, because I would love to see all the MCs coming out of the hyperbolic chamber spitting their verses and fighting Dragon Ball style through the song. 
Something In The Water is a laid back bop that would have sounded better right after the intro to me, but it's one of the stand outs on the project. "I wake up to we p%$$y and steak & eggs" is part of Jake's opening bars on this one (I think its Jake) as he skates us into the joint. Firefly is another hard-hitting joint on here and Edd Bundy shines on this as he spits about being inspired by Big Pun. I mean, I could even hear Pun on this one, he would be proud. 
With other joints like Life is Wasted and Broadcasting Live, the artists are definitely inspired by that classic backpack and/or just 90's Hip Hop era. Wrong or Right feels like a filler, but with only 8 tracks and under 30mins, I can't knock it too hard. Laying Low is definitely an end of project track, but I feel like the posse cut could have been placed here or somewhere at the end to help close it out. This is a true Hip-Hop old school feeling project, but I feel like it may have too many features that weren't up to par at times. The project has good production and it would be interesting to see what the 2 main artists have coming next.  
Bottom line and question of the day; Is It Dope Tho? It's cool and may not necessarily be my cup of tea, but you'll have to listen for yourself. The project is a SOLID on the Dope Tho Scale. Listen now and thank me later... #DopeTho #YouWelcome 
Dope Tho Rating: 6 
Key Dope:  
Something In The Water 
Firefly 
Dope Tho Rating System:  
1-3 Nope Tho  
4-5 Needs Work 
6-7 Solid  
8-9 Heat  
10 Dope Tho Classic