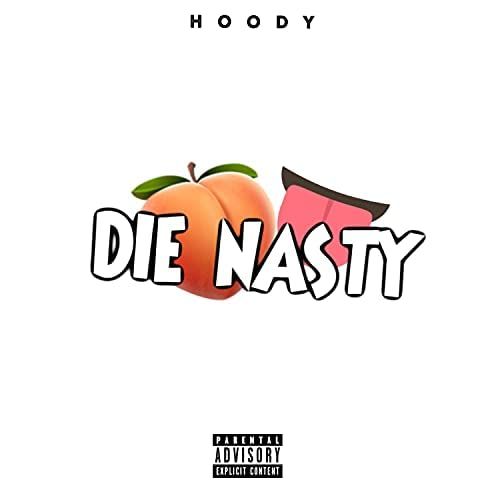 Artist: Hoody  
Album: Die Nasty  
Articulation: King Acklin 
Hailing from Paducah, KY but now living in Nashville, TN, Hoody is looking to bring back the nasty to rap. His latest project, Die Nasty, is poised to do just that in a classic way. Released September 30th of this year, Hoody went the concept album route looking to pick up the eyebrow raising, booty shaking baton of legends like Uncle Luke and Too Short. This idea seems to have paid off for Hoody as the 14-track project is filled with classic beat and song flips giving listeners nostalgic feelings while bumping new material. Think Tory Lanez and his Chixtape series, but with a more down south feel and more classic musical material. 
The album's Die Nasty Intro kicks off with a classic Project Pat/Triple 6 Mafia sample made even more famous by UGK's International Players Anthem. This is a dope way to start a project with Hoody rapping about ass shaking and ballers throwing a whole lotta dough. It doesn't get any more classic than having your granny on your album, which is exactly what we get on the Granny's Voicemail skit. Granny don't wanna hear this nasty music. LOL..   
One of the highlights of the project, Don't Flex, comes on with a flip of Snoop Dogg and No Limit's Down For My N's, but the chorus also gives you 8Ball & MJG's own Don't Flex. A standout track on this one is Like It Like That, which is a flip on Juvenile and Soulja Slim's Slow Motion, only to be followed by another classic banger flip, Finer Thangz. Finer Thangz flips the Scarface classic, F%#k Faces. The next few tracks on the project will have people going back to early 2000s with Hoes, Ying Yang and Hot Shit. 
Die Nasty definitely lives up to its name. The project is nasty and would make Uncle Look and Too Short proud. Overall, the production is dope and Hoody can spit making the flips on these classic songs worth listening to again. Listeners will feel like they're down south head nodding to old Cash Money/No Limit tracks listening to Hoody give them hustling, pimpin ass lyrics. He even ends the project strong with another standout track, Fredo World featuring Frenchy Fredo and Boss Moves featuring Lil' Flip. The latter track gained attention prior to release of the album as many assumed Flip was dissing T.I... 
Bottom line and question of the day; is It Dope Tho? The answer is yes; the project is an 8 (HEAT) on the Dope Tho Scale. Listen now and thank me later... #DopeTho #YouWelcome 
Dope Tho Rating: 8 
Key Dope:  
Die Nasty Intro 
Don't Flex 
Like It Like That 
Finer Thangz 
Fredo World 
Boss Moves 
Dope Tho Rating System:  
1-3 Nope Tho  
4-5 Needs Work 
6-7 Solid  
8-9 Heat  
10 Dope Tho Classic