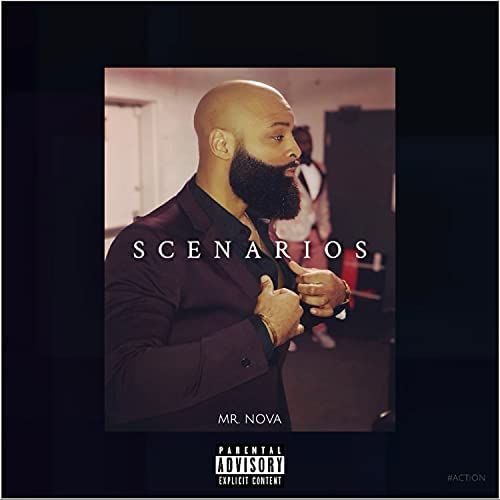 Artist: Mr. Nova  
Album: Scenarios  
Articulation:  King Acklin 
Louisville, KY artist, Mr. Nova, is back on people's neck with his new project, Scenarios. The project was released last week (09/09/21) after about a year of teasing fans with the single Made, snippets of tracks he was working on and blazing one of DJ Slikk's Booth Action episodes. The 14-track project contains no features, its produced, written and performed all by Nova himself. His work ethic should be unquestioned as he's been doing this for a number of years now. He produced the platinum track Twerk by the City Girls and has worked with several other notable artists. 
Nova's last release was 2018's No Filter and that project found him moving out of his comfort zone. Three years later, Scenarios finds Nova well suited in his own zone focused on himself. Confident is the lead track and it's definitely appropriately titled as Nova spits, "I'm a set this shit off right", which is exactly what he did. It's a very braggadocios track with catchy hard-hitting production that everybody should listen closely too in these days and times. People are truly uptight and need to have some damn fun; maybe they need to get their confidence up. The next track, Fck it Up, pretty much gives you the intent on what the artist planned to do with this project. 
"Nah, Nah, Nah" chants Nova on one of the standout tracks, My Square. Basically, he's letting all the haters no they can't knock him off his square and the only competition is with the man himself, Nova. Does Nova really have these artists bent out of shape; maybe he does? The man can be found comfortably going from sharp lyrics to singing on this track. This is the case on the entire project. From bouncing partying songs like Exit, where Nova is still letting people know that they can get gone if they're not ready to be there with him in the trenches, to the fat ass tribute, courtesy of a 2PAC sample, Pass Out. 
Pass Out may be the prep song for the ladies portion of the album. The reason is because Nova gets into his wine/dim the lights zone with heat like Sweet Marcella, Back Seat and another standout, which might have been his lead single, Made. After this zone, Nova hits us with bangers like the Nipsey inspired Cause And Effect and then What Talk. Nova actually lets us know the beat for Cause and Effect would have definitely gone to the late great Nip if he was still with us. When you listen to this one, you can hear and feel like we missed out on another great Nipsey banger. 
Scenarios shows us that a lot of different scenarios probably led to this project finally being released. It seems like Mr. Nova has or had a lot going on in his life and getting this out could be a huge relief. The project boasts great production with variety that should leave listeners satisfied. 
Bottom line and question of the day; is It Dope Tho? The answer is yes; the project is a 9 on the Dope Tho Scale. Listen now and maybe thank me later... #DopeTho #YouWelcome  
Dope Tho Rating: 9 
Key Dope:  
Confident 
My Square 
Pass Out 
Sweet Marcella 
Made 
Cause And Effect 
What Talk 
Dope Tho Rating System:  
1-3 Nope Tho  
4-6 Solid  
7-9 Heat  
10 Rated Dope Tho