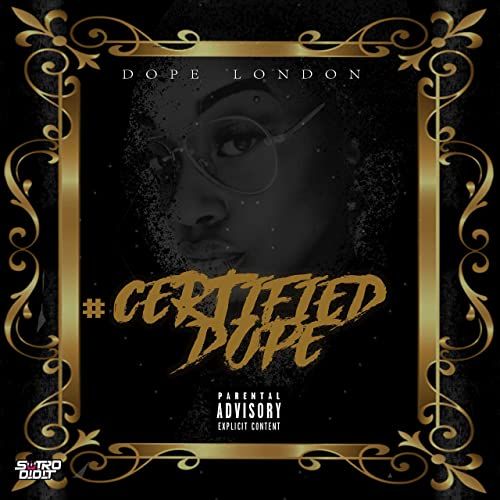 Artist: Dope London
Album: #CertifiedDope
Articulation: DJ Suspence
The western Kentucky (by way of Arkansas) rapper Dope London dropped her latest effort "#CertifiedDope" in November of 2020.  Now the question is, is the project's name applicable to this body of work? 
Right off the bat it starts out strong with the perfect track to set the tone of the project, and also let you know if you aren't already familiar, that she can actually RAP rap with the opening track "Smoking Dick".  Dope London is able to show off both her lyrical prowess, and ability to switch up between different flows, and this is especially evident on the track "BigDot". 
Within the first few bars of "BigDot" I realized that I currently was sporting the ugly face as an involuntary reaction to the bars Dope London was spitting out.  This is were you realize that she is vying herself to be mentioned as one of the top woman emcees in the region.  But not only were her bars dope, but her change up in flow multiple times during the song give it an added showmanship factor.  It's all around the best track on the album.  However the album does take a step back on the following track. 
At the expense making a bad pun, this project does kind of take a back seat on the track entitled "BackSeat" featuring Parana Prob.  The autotune use sounds way too "strong" and gives the track the sound of a "local" record.  With the autotune being so heavy, it's also almost impossible for me to even get a gauge on Parana Prob who is featured on the song.  It's almost as if I can barely hear him under the autotune, and with all those things together, the song sounds out of place with the rest of the songs on the project.  If the autotune was removed from the track, or even just toned down a lot more to only have a slight voice correction, this song could also be one of the stronger records on the project.  If not for this, this project could be close to a flawless body of work. 
However, even with the miss on "BackSeat", overall this is still a very strong project with everything considered.  The production is on point, lyrics are as well, and the flow is stellar throughout the project.  Dope London named the project "#Certified Dope" and she definitely hit the mark for the that namesake.  My rating for this project is a 7. 
Dope Tho Rating: 7
Key Dope: 
Smoking Dick 
BigDot 
Jokes On You
Dope Tho Rating System: 
1-3 Nope Tho 
4-6 Solid 
7-9 Heat 
10 Rated Dope Tho