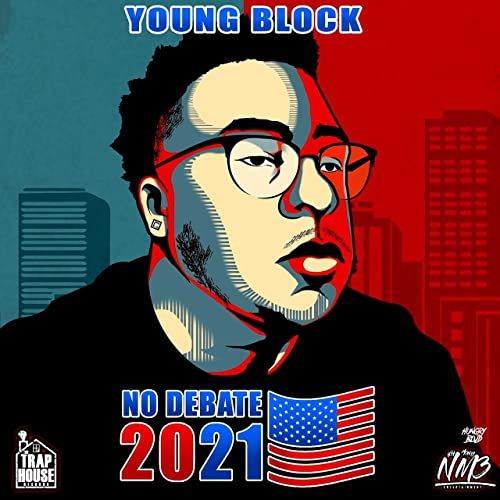 Artist: Young Block
Album: No Debate
Articulation: DJ Suspence
Young Block just dropped his latest project in March titled "No Debate", and literally there is no debate on whether this is a dope project or not.  He starts off with an interesting intro to the project.  There's a few different clips patched together, but my favorite is a clip of guys basically debating their ratings for the project, which makes the intro pretty enjoyable.  However the one thing I would say about the intro is that it may be a tad too long.  The intro is almost a full 2 minutes long, so I would suggest maybe trimming it to maybe a minute or under, and it would be perfect.  But it's still definitely an enjoyable listen. 
The first actual song on the project, "No Debate" - the namesake of the project - is a very strong track to start the project off with.  The production is absolutely amazing!  The song gives off a DJ Premier produced feel that you can sit back and imagine the likes of Jay-Z rhyming over, but with the way Young Block rhymes over the beat, you don't even remember that you had thought about Jay-Z on the song at all.  Young Block really holds his own, not just on this record, but over the entire project.  Which is why it was refreshing that he only has one feature by SRG Bandino on the record "Chasin'", which is definitely a strong record.  On "Chasin'", Young Block shows that he can put together a club/radio record with the best of them.  You could easily imagine listening to this one on the radio or vibing to it at your favorite club spot. 
Another strong suit Young Block shows on this project is the ability to switch up his flow to fit the production style of each record.  A shining example of this is the song "Spin The Block".  This particular record has more of a "Street Record" feel, and he knocks it out the park.  Young Block really does provide multiple different vibes on this project and he really nails each one.  But the real gem on the project is the final song "Real Rap".  Every track on the project has amazing production, but "Real Rap" is out of this world!  Imagine a combination of Just Blaze melodies and old Kanye West samples, and you'll get a picture of the sound of this record.  What also makes this record great is you can really feel the emotion that was poured into this song.  And that's something that's not easily attainable. 
There isn't a bad song on this project and every record is a strong one, which isn't really common.  Add in amazing production across the entire effort, lyrical skill, and dope flow, this is easily one of the best projects I've listened too in all of 2021.  My rating for this project is an 8.
Dope Tho Rating: 8 
Key Dope 
"No Debate" 
"Chasin'" 
"Real Rap"
Dope Tho Rating System: 
1-3 Nope Tho 
4-6 Solid 
7-9 Heat 
10 Rated Dope Tho