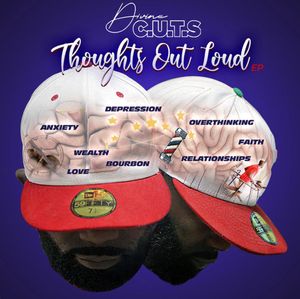 Artist: Divine C.U.T.S  
Album: Thoughts Out Loud 
Articulation: Courtney Cosby   
This 5 song EP by Divine C.U.T.S. has a dope concept and positive vibes.  "Thoughts Out Loud", which is the name of the 1st song, is the perfect title for the project because Divine is basically telling us about all the thoughts going on in his head.  He talks about depression, self medication, PTSD, anxiety, therapy, being socially awkward, suicide and how his mother's death still affects him all in the 1st song.  He's also a barber who owns a barbershop so he speaks on how COVID-19 affected his business. I enjoyed this song a lot.  
The 2nd and 3rd songs are geared more toward the ladies.  H2L (Hold Me Down) is about him being busy on the grind cutting hair and his woman is complaining about him not spending enough time with her.  There's another artist featured on the song who raps about how his woman wants a man with a 9-5 instead of a man in the streets, but still complains about him working all the time.  In "A Better Man" Divine also talks about cutting so much that it's causing problems in his relationship.  The chorus, sung by Smoke E. Digglera from the R&B group Playa says, "I'm tryna be a better man, doing the best that I can, girl I want you to know, that it's a part of my plan, if you just take my hand, girl I will give you my heart, girl I want you to know, that nothing can tear us apart," so if she just stays by his side and is supportive things will work out.   
I really didn't care for "Hurt People, Hurt People" because he used auto tune on majority of the song and his flow was very basic. I think it would've sounded better with no auto tune at all.   
The final song, "I'm Still Here (Wewillwin)" is favorite song and his a dope video to go along with it.  It sounds like a church anthem that makes you wanna clap, dance and throw your fists up! It starts off with a clip of what sounds like a preacher talking about the pandemic and how Jesus can calm the storm.  It ends with the audio of Kenneth Walker calling the police after the police killed Breonna Taylor.  The video shows a lot of visuals and clips from the protests, which I had already envisioned in my head before I even watched the video.   
Overall "Thoughts Out Loud" is a good project with a lot of positivity and good vibes.  We need more of that especially right now with all the racial inequality and innocent black people who have been murdered by the police. I give the project a Dope Tho rating of 7. 
Dope Tho Rating: 7 
Key Dope: 
I'm Still Here 
Thoughts Out Loud 
A Better Man 
Dope Tho Rating System: 
1-3 Nope Tho 
4-6 Solid 
7-9 Heat 
10 Rated Dope Tho