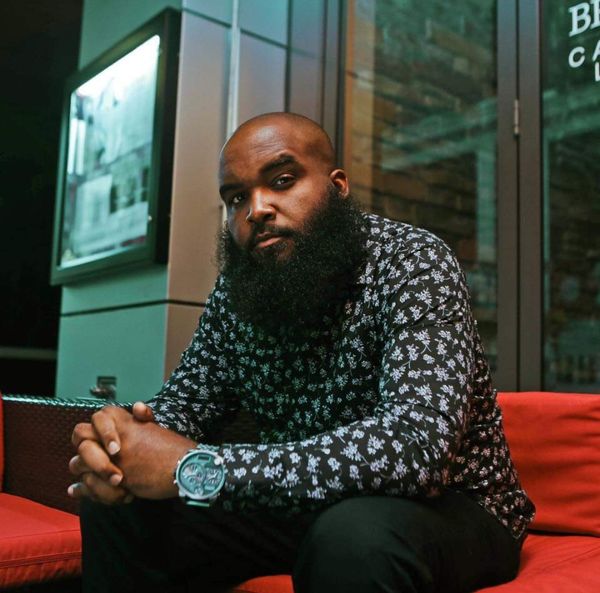 #1 How did you start djing? 
Dj Slikk: I was thrown into it. One of my boys asked me to come over with my music. I did and I played music at his party. This was way back in middle school!
#2 Do you prefer vinyll or the new school digital way of djing?
Dj Slikk: I like both! Of course the nostalgia of 1st starting but you have to get with the times. Both.
#3 Who's your favorite Dj of all time?
Dj Slikk: My favorite Dj of all time is Kid Capri, as far as rocking a party. Biz Markie gets busy... I like DJ Empty Beats. There are different types.
#4 What volume of your mixtape series "At the Crib" are you on now?
Dj Slikk: I just wrapped up Vol. 63. We kinda held tight on those for a while but I just wrapped it up.
#5 What is The Elitegiance?
Dj Slikk: The Elitegiance is just a collective of people who do music who are interested in pushing the culture forward. 1 big group of people pushing each other to be the best they can be. No egos.
#6 How do you keep up with all this stuff?
Dj Slikk: Somehow I learned how to multitask. I'm over here multitasking right now.
#7 You like your woman "Slim Thick" or "look at the wagon she's dragging"?
Dj Slikk: I like mine thick and hard to pick up! So... "the wagon she's dragging."
#8 Favorite album of all time?
Dj Slikk: That's tough right there... Dj Quick Rhythmalism. That's definitely top 5.
#9 Album of the year?
Dj Slikk: I had a bunch of them. I liked Pusha's... I like The Carter's album! I'm at a different point in my life... I liked The Carter's album, but there's a bunch of them.
#10 Can we expect any rap verses from Dj Slikk in 2019?
Dj Slikk: If you hear a rap verse from Dj Slikk in 2019 something is terribly wrong. Go call the people. I have head trauma! I do have a verse though. Everyone has old verses. Nothing new though. 
#11 How do you feel about the current State of music in Louisville (Rap and R&B)
Dj Slikk: I love the Louisville music scene PERIOD! Its super dope. So many talented people getting a chance. Its not a lot of people blocking other's shine or pushing agendas. Its getting to the point where people are embracing the artist and they can be treated as stars. And not just in Louisville but in Kentucky. I do feel like The Elitegiance plays a small part in that. I love it!
#12 How do you join The Elitegiance
Dj Slikk: If a Dj wants to join they just have to express interest. Its mostly a group consensus or a referral process if 5 djs can vouch for you or if you start coming to the events and supporting regularly you have a shot.
#13 What's next up for you?
Dj Slikk: Man a whole lot of things. I have a lot of stuff brewing in secret i'm excited to get out there. A lot of mixtapes, parties, events, unconventional media. Not only from me but from the whole Elitegiance.
#14 Mike, Kobe, or Lebron and why?
Dj Slikk: Bron. The way he transcended and touched everything. Even though he switched a couple of teams, I'm with that too lol!
#15 What's the best way to for artist to reach out to you?
Dj Slikk: On "Mic Check Wednesdays" at Vis A Vis in Louisville. Come through and politic an network or email me djslikkmp3@gmail.com
#16 Who is the GOAT rapper
Dj Slikk: There is no greatest. It'll never be. Pac will always be the most influential. Big will always be the underdogs pick. Like Drake is the biggest rapper right now but is the greatest rapper? I dont know man. It's up to interpretation.
#17 Kendrick Lamar or J. Cole
Dj Slikk: That's really rough. I like both of those artist. Probably J. Cole because he's closer regionally so I can understand everything from that aspect a little ;bit more.
#18 What's something you'd like to see from indie artist in KY and indie artist in general?
Dj Slikk: I'd like to see a bunch of artist get the quality of the music up. There's a whole lot of dope artist but it needs to be mixed and mastered and sounding  correctly. That's the that's the main thing
#19 Favorite Childhood cartoon?
Dj Slikk: Lol! You took me back with some cartoons man! I'm trying to think. Doug... we used to watch Doug Funny, Nickelodeon.
#20 Childhood TV crush?
Dj Slikk: My childhood crush from tv would probably be Lisa Turtle from Saved By the Bell.
#21 What is a key of wisdom that stuck with you that you can share with the Dope Tho audience?
Dj Slikk: The best advice I can give somebody is never settle man. Never feel like you made it. Never take a break. Just keep pushing. Even if you don't feel like you're there, just keep pushing. It's around the corner. Just keep on moving. I just want to tell people that. Like even if you're making bread and you're feeling good. Keep pushing, keep switching up stuff and keep innovating yourself. That'll be my words of advice. I swear it'll work out for you. And if not you'll figure out another way to make some bread and you'll be all the way together.